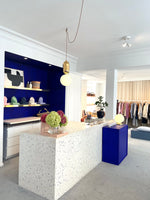 Ensemble provides an exciting addition to the already bustling city centre of Kortrijk.
We are a multibrand store for women. We offer a wide range of apparel, shoes, accessories and home objects with a focus on quality, fit and detail. The mix of brands are hand-selected by founders Maxine and Marie-Léonie.
A few of our favourite brands for the new collections are Gestuz, Flattered, LBH-Lab, Alohas, ...