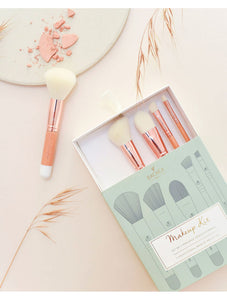 The Bachca Makeup brush set includes 5 brushes for the face and the eyes :
+  A Powder brush
+  A Blush brush
+  A Foundation brush
+  An Angled Shader brush
+  An Eyebrow & Eyeliner brush
Ideal combination of 3 preciously selected materials: the pure synthetic fibres which are extremely soft, the painted natural wooden handle and the gold-plated aluminium ferrule.
5 brushes for a complete makeup:
Powder Brush: The powder brush is a must; it is ideal to apply the uniform of compact or free powder all over the face.
Blush Brush: The Bachca Blush Brush is ideal for applying compact or loose powder. Its beveled shape follows the curves of the face and allows a perfect application on the cheekbones and the edges.
Foundation Brush: This brush is ideal for applying its background without defect. An ultra-thin film for a smooth and homogeneous result
Angled Shader Brush: The Bachca Beveled Eyeliner is the perfect accessory to apply shadows to eyelids. Its beveled tip is designed to work the shadows in the hollow of the eyelid and on the brow bone.
Eyebrow & Eyeliner Brush: This brush can also be used to apply and blur the eyebrow pencil but also to draw a line of eyeliner. Its fine synthetic fibers make it possible to define and intensify the outline of the eyes in order to define and intensify the look.
CLEANING TIPS
Put the brush head in the water and apply a small amount of soap (mild shampoo) in the palm of your hand. Rub the brush in your hand in the little circular motions and rinse. Repeat until the brush clears clear water. Wring out the maximum with your fingers, without pulling the hair. Tape a small towel or a good layer of paper towels on a flat surface and glue your pliers to the others. It is important not to head up.